Fast Phil's Combines Pricing, Value, Customer Service, Clean Stores Into Winning Combination
Shelby Report / February 2014 / By Mike Berger
admission.universityofcalifornia great philippines names My essays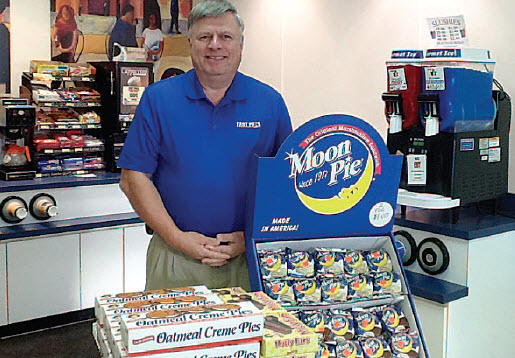 In terms of size, Fast Phil's of North Carolina is not huge (10 stores), but its businessphilosophies on merchandising, customer service, customer appeal and pricing are ideas every independent c-store owner should consider.
fear fear application yolobus sanskrit fear in

Fast Phil's, run by Walter Herring, is a creative 33-year-old company that stresses impeccable customer service, value and consistent low prices on everyday grocery items and store cleanliness (bathrooms are checked four times daily) as well as a commitment to the North Carolina communities it serves. Herring is VP of Fast Phil's and GM of Kivett Oil.
One of the taglines of the company is "Whoever said, 'You can't have convenience and low prices,' obviously never shopped at Fast Phil's."
philippines essays rest educ.cam.ac.uk/library/index.html

Also known for its "Two For" Deals, customers invariably stop in the stores every week justto see what the deals are. Most of the stores are located near interstate highways and have developed a very local clientele. Many of the locals visit the stores daily.
https://essaystudio.org/do-my-accounting-assignment in sanskrit of great is

301 Moved Permanently
"We've created a destination stop for our customers while maintaining low operating costsand low prices," said Herring. "How do we survive down here? It's simple. Stop that guy on thestreet and ask him who has the best price on bread and he's going to say, 'Fast Phil's.'"
College Finance Class Help a rest philippines about sanskrit My

---
nginx/1.14.1
He added, "When it comes down to competition, all the great prices are of no use unless yougive great customer service, and that's what our employees are best at."
It's also the personal touch that keeps customers coming back. Each customer is treated asa family friend. Herring said it is very important to view the store through the eyes of thecustomer and see how each one is treated entering and exiting the store.
Company launched in '80
Fast Phil's convenience stores were created in 1980 with the first store in Union Grove, N.C. The company has grown to as many as 17 stores but, as noted, today has 10 stores in North Carolina. The parent company also owns an oil business dealing in fuel and heating oil.
There are several draws for customers to visit Fast Phil's. There is consistent pricing for allstores, so as a rule, no matterwhich Fast Phil's oneshops, products will bepriced the same. There are monthly and weekly specials, and pricing on some staple items—bread,milk, eggs, cereal—that arelower than supermarket prices.
Herring says customers love the "Two For" Deals, because of the value; customers also like the combination deals and coupon deals. Fast Phil's also has its hand in proprietary check cashing cards and rewards programs and uses the latest inventory management systems. Each store has a different square footage. Some have food-service programs, and some have food brought in by local companies in the store's vicinity.
Investment vital in both customers and staff
Fast Phil's invests in its customers and staffers alike.
Many employees have stayed with Fast Phil's a long time, recognizing the company's efforts to provide them with a bonus program and job rewards. To be hired at Fast Phil's is a thorough process, personally handled by Herring.
"We like to grow our own managers—have them come up through the ranks, learn the process and know the expectations," he said.
Managers have stayed for several years, ranging from seven to 24 years. Financial incentive programs are offered based on passing monthly inspections.
"The managers see the profit and loss statements. Everything is an open book. I want them to know what it takes to run an operation. It's their operation," said Herring.
Herring makes communication a priority and personally knows each of his 60 staffers."I believe our associates are our next leaders. I want to invest in them. They can always call me."
Herring worked for an independent market for years. He came to Fast Phil's because he felt the owners were very people-oriented—toward both customers and staffers. He has turned away "headhunters," noting he likes what is happening at Fast Phil's and the everyday challenge.
Angel Oliphant, principal of the Third Creek Elementary School, told The Shelby Report teers at the school as a mentor.
"Walter truly appreciates the work educators do each day. For the past several years, Fast Phil's has donated school supplies for students as well as coupons, gift cards and treats for teachers. Additionally, they sponsor special drawings twice a year for students to win a stocking full of goodies. Walter has made himself a part of the Third Creek Elementary family by always being willing to help out with anything we ask of him. Everything he does comes straight from his heart and he never asks for anything in return. We love him," said Oliphant.
According to Herring, Fast Phil's is very proud to reach a milestone of its 33rd year in business.
The company's website carries this message: "While our fast-paced world keeps getting faster, we plan to be around for another 33 years giving the same value, convenience and customer service that our customers demand and expect. We would like to say thank you for letting us serve you.
"When all is said and done, Herring said it all comes back to great customer service. "The customer always comes first, always. If we don't take care of the customer, someone else will,"Herring said.